Setting Up Your HAVSPRO Vibration Sensors
Setting up your vibration sensors and HAVSPRO reporting dashboard couldn't be easier with our dedicated installation team.
Before we can start your install, we will ask you for a full list of your tools including make, model, asset or serial number, alongside a list of operators (name, works number and HSE points values to be used).


We will then visit your site(s) and fix pre-programmed holsters on to each designated tool, supplying one pre-programmed HAVSPRO sensor for each operator.


Training is then arranged at your site(s) to suit your needs and schedule.


Operators are trained in using their HAVSPRO and the importance of vibration monitoring.


Supervisors will be shown how to effectively use search parameters and how to access and create bespoke reports and weekly summary reports. Supervisors will also be shown how to create their own, customised dashboard.

Included in supervisor training is how to download data in specified formats, interpretation of values and vibration levels, identification of trends and suggested actions that can be taken in the event of a breach of EAV or ELV.
Cost Effective Service Package
We offer a competitively-priced service package which includes holsters (fitted on to vibrating tools), sensors (one for each operator) and beacons (as many as required to ensure vibration data is picked up from the sensors to be transmitted to a cloud-based database).
Each beacon is fitted with a HAVSPRO communications pack  which includes a mobile dongle and SIM, which means it does not need to be connected to your own WiFi, and each customer receives an individually tailored secure HAVSPRO data analytics platform.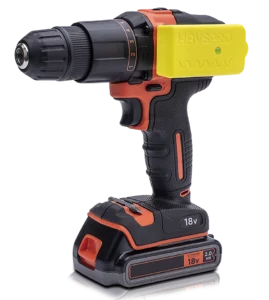 Download the HAVSPRO Brochure
Discover how the HAVSPRO vibration measuring and monitoring system protects you and your workers from the ill-effects of vibration exposure.
It monitors individual tool vibration levels and the exposure each person has to it.
The system triggers alerts and collates all this data and creates customisable reports to help you prevent overexposure.
Find out everything you need to know in our brochure – simply complete the form!